Artist Name:
Steve DC11 Dickson
Musical Style:
Techno
Biography: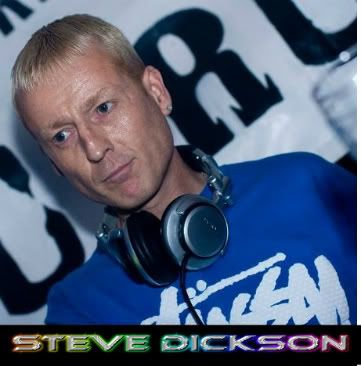 STEVE DICKSON
Born in Hartlepool in the industrial North East of England.Steve is a long time servant to electronic music.with a long history going back to his school years listening to hip hop and original electro,which has served as a long time influence on the music he plays today...
A few years later he started to get into chicago house and later the detriot techno sound.Then the British scene took off big style with acid house,techno when it was mostly underground clubs & raves,clubs like the havana(m'boro)walkers & rockshotts(the drop in n'castle) illegal after hours like 'the house of god'(s'land)fat willys(birtley)the house in hebburn(gateshead) & cj's(sheffield)which was a great time to be into the scene.He then got into progressive house in the early 90's after everything started getting to commercial eventually returning back to varied upfront cutting edge house & techno in the mid 90's were he still is today.His style being raw and dark but keeping a flowing energy at the same time,remixing his sound on the fly creating something unique everytime he takes to the stage.
Steve is currently creating huge waves in the North of England with his unique style of underground house & techno at the DC11-Evil Circus nights where he plays his regular residency,and various other locations.And has just recently won the IDJ Raw Talent Competition in 2011.
He has played alongside the likes of :-Rebekah(Sci + Tec)Jon Rundell(Intec Digital)Chris Scott(Lexicon Avenue)Gareth Whitehead(Bulletdodge Recs)Pete May(Recoil)Kutski(Radio 1),Proteus(Finland),Phil York(IHDS),Deaf By Dawn(Twister Tunes),Bez(Happy Mondays),Fausto(Holland)Patryk Drab(Poland),Chris Ryan(Retro) Mark 'Jubbs'Williams(Global 1fm),Jack CoCo Maughan,T.I.M(Fnoob Radio)
His musical influences are :-
Grandmaster Flash,Afrika Bambaataa,Herbie Hancock,Kraftwerk,James Brown,NWA,Marshall Jefferson,Adonis,Kevin Saunderson,Juan Atkins,New Order,Andy Weatheral,Happy MondaysSven Vath,Dave Clarke,Plastikman,Sasha,William Orbit,Danny Tenaglia,Slam to name but a few.
The Clubs that inspired him :-
Tiffanys,Funky Nige's Comps,The Centrefold,Foxy's,Havana.Sugar Shack,Walkers,Shindig,Rockshotts.Rezerection,The Tunnel Club(Glasgowand South Shields).Blue Monkey(S'land). Chambers.Hacienda.Quadrant Park .CJ's.Streetrave.Back2Basics.Vague. Soak/Koas.Shellys.Venus..The Sub Club.
You can also catch his guest mixes on Most Delicious Radio in Munich.Germany http://www.studiomost.de the worlds foremost underground music station Fnoob Radio in London http://fnoob.com,Global 1fm Radio in Chicago.USA http://www.global1fm.com/
For bookings you can contact steve direct@ >> stevejd72@googlemail.com
Big Thanks to all listeners and followers for the great feedback and support !!!!
Location:
Hartlepool (GB/)
Website: